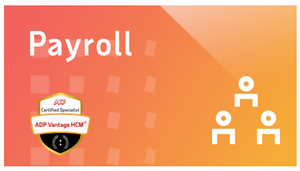 The ADP Certified Product Specialist Program sets the standard for excellence in the use and application of ADP solutions. This program establishes standards for professional knowledge and practical experience in using and applying ADP solutions. 

Preparation Courses and Study Resources
A learning path of preparation materials and study resources will be included to assist in your exam readiness. 
Exam Description and Topics
The ADP Certified Payroll Specialist in ADP Vantage HCM® exam is made up of multiple-choice questions and is based on concepts and experiences that should be familiar to a proficient Payroll practitioner with at least six months' experience, including yearend, using ADP Vantage HCM®. The concepts and topic areas of the exam are derived from a training analysis study.
The exam contains the following focus areas: 

I. Setup and Configuration
II. Payroll Cycle
III. Entering Pay Information 
IV. Employee Maintenance
V. Payroll Output (including Quarter-and Year-End) 
VI. Off-Cycle Checks, Adjustments, Manual Checks, Voids, and Reversals 
VII. Communication - Working with ADP