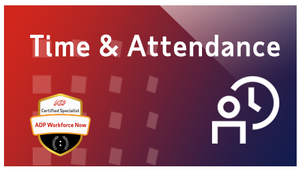 The ADP Certified Product Specialist Program sets the standard for excellence in the use and application of ADP solutions. This program establishes standards for professional knowledge and practical experience in using and applying ADP solutions.

Eligibility Criteria: 
You

 

must be a current ADP client practitioner in the WorkForce Now Product

 

with practitioner access. 
You must have a minimum of 6 months in the product and have gone through one full year end cycle. 
See the Policies here and for the FAQ go here
Preparation Course and Study Resources
This 8 week Learning Plan will help you prepare for the Certified Time & Attendance Specialist in ADP Workforce Now Exam. The program is made up of self-paced study, a virtual instructor led session and optional office hours. It requires you to spend approximately 1-2 hours/week for 6 weeks to complete the courses in your assigned learning path in myLearning at ADP. The plan also includes an optional self-study week. In week 7, you will complete the practice exam, and then in week 8, the certification exam itself. The certification exam is assigned to you after you pass the practice exam with a score of 85% or higher. 
Topics include preparing for the ADP Certified Time & Attendance Specialist Exam, managing employees' reported time, maintaining employee information, managing schedules, and preparing for payroll processing. 
Exam Description and Topics
The ADP Certified Time & Attendance Specialist in ADP Workforce Now exam is made up of approximately 50 multiple-choice questions and is based on concepts and experiences that should be familiar to a proficient Time & Attendance practitioner with at least six months' experience using ADP Workforce Now. The concepts and topic areas of the exam are derived from a training analysis study.
The approximate percentage of questions in each area is shown in the following list:

I. Employee Maintenance (26%)
II. Managing Employees' Reported Time (30%)
III. Configuring and Managing Schedules (12%)
IV. Running Reports (10%)
V. Preparing for Payroll Processing (16%)
VI. Configuration and System Maintenance (6%)