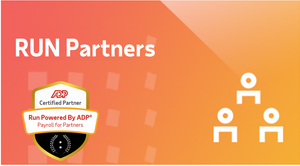 The ADP Product Specialist Certification Program sets the standard for excellence in the use and application of ADP solutions. Certification from the industry leader proves that participants have the knowledge, skills, and expertise needed to perform critical human resources and related tasks.
Important Note:  You must be a RUN Powered by ADP® Partner or Accountant Connect active user to register for this certification program.  
Become a Certified ADP® Partner with RUN for Partners!
The RUN Powered by ADP® Payroll for Partners (RUN for Partners) Certification is designed to provide you with the knowledge, skills and expertise needed to become proficient in the use and application of ADP's payroll and HR solutions. The self-study curriculum allows you to go at your own pace through a variety of knowledge areas covering everything from client onboarding to successfully marketing your payroll & HR services. The learning path is designed to help you prepare for and pass the required certification exam, confirming your proficiency. 
Certification Benefits
Upon successful completion of the program, you'll unlock many valuable benefits that can help both your firm & your clients, including:
Recognition as an ADP Certified Partner with RUN for Partners
An expanded skillset to perform advanced tasks using RUN Powered by ADP
Help enhance your firm's efficiency and earnings potential
Expanded career opportunities
Earn 2 CPE credits while earning your certification
Exclusive promotions and discounts made available throughout the year to ADP Certified Partners
 Exam Description and Topics
The RUN for Partners certification exam is a three-hour exam and can be taken at any time within the 90 day period. It is made up of multiple-choice questions and is based on concepts and experiences that should be familiar to a proficient RUN Partner Firm.  It is recommended to have at least six months' experience using RUN Powered by ADP®. The concepts and topic areas of the exam are derived from a training analysis study.
The exam contains the following focus areas: 
  I.     Getting Started with RUN Powered by ADP®
  II.    Processing Your Payroll
  III.   RUN Reports
  IV.   Managing Client Employee Data
  V.    Quarter & Year-End Tasks
  VI.   Manual Checks, Voids and Fringe Benefits
  VII.  Working with ADP
  VIII. Marketing and Selling Payroll & HR Services

Additional Details About the Exam Knowledge Areas
Getting Started
In order to earn your RUN for Partners certification, you must:
Part 1: Purchase the certification program training by clicking Add to Cart at the top of the page and following the instructions.
Part 2: Review the knowledge areas and other recommended resources provided in your learning path to prepare for the online exam
Part 3: Pass the Certification Exam
Upon passing your exam, you'll obtain an official certificate, as well as a digital badge to help strengthen your firm's marketing and showcase your expertise. Add it to your firm's website and share on social media with current and prospective clients to further solidify your role as their most trusted advisor.


Still have questions? Contact Us